Moreover whom he did predestinate, them he also called: and whom he called,
them he also justified: and whom he justified, them he also glorified.
What shall we then say to these things? If God be for us, who can be against us?
Romans 8: 30-31
Greetings in Christ!
Many people have been asking how we have been, how is the ministry going, how are Oscar and Analucia, are we recovering from our various sicknesses, etc. We must say, God is good and thank you for your love and concern! It is because I have been recovering from Malaria that we have not been able to get an update out in a speedy fashion.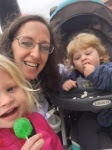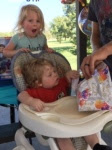 It is hard to explain, but this last bout with Malaria has been very vexing on my mental capabilities, causing an inability to group thoughts and ideas together in a way to relay to you the enormity of God's presence in our mists.
As many of you know, Melissa and Veronica were in the United States visiting family and friends for the month of September. They had a wonderful time of fellowship and relaxation in the Nebraska/Kansas area, sharing at a few local churches about the ministry and being able to spend quality time with our newest grandchild Logan and his sister Charlotte, son and daughter of Junior and Ashley.
During the time they were in the U.S., Benjamin, Josiah and myself were in the interior of the jungle ministering among the Apurina Indians. The ministry there is just bursting at the seams with fruit as our disciples are rising up and stepping out in their own ventures of faith, trusting the Lord, in order to bring solid bible teaching to various other villages in the area.
On that trip, we completed the construction of Calvary Aldeia Nova, our first church plant. We also completely replaced the roof and rafters on our jungle house in Vila Nova.. We continued our School of ministry classes, had baptism classes, leadership classes, kid's club, women's meetings, and, in all, glorified God for He is good!
During the last month and a half, I, Brad have been recovering from Malaria again. This bout has been extremely rough, but we are confident that recovery is now on the horizon. I continue to be weak, but I am not anemic. We have done various blood exams to confirm that the Malaria is gone and that my blood levels are good.
Your email and Facebook messages of encouragement have been a real blessing to me as I spent so much time bed bound, desiring to get up, but lacking the energy to walk to the kitchen and back.
While in the U.S., Melissa was able to see a specialist who confirmed that she did not have any heart issues. The pain and symptoms she had back in August were related to an inflammation of tissue in the sternum area of her chest and may return, but was of no real concern. He said that if it returned, to take a couple of Advil and rest.
We greatly appreciate your prayers and love. It is not uncommon to suffer various illnesses and strange sickness here in the jungle, where it is so humid and hot, as viruses and ailments, parasites and other things thrive. So we just ask you to continue to pray for us, trust that God is in control of even these things, and continue to lift us up before Him as useful utensils in His more than capable hands as we accomplish His will for the Apurina people whom He has given us to care for.
We have much on our pallet in the coming months and ask that you seek the Lord's blessings and blanket these things with prayer.
The Apurina people. Oscar and Analucia our first disciples and trained missionaries, Raimunda, our local evangelist and women/children's leader, Elsimara, an up and coming women/children's leader, Valdici, the main preacher in Vila Nova and the leader of the church plant in Aldeia Nova, Emerson, Jarison, Jeson, Vitor, Nelson, all new disciples in Aldeia Nova and future leaders we think, Lucia, Vanilsa, Janet and Rosanilda, women disciples in Aldeia Nova.
The new work that Oscar and Analucia are doing up in Sao Sebastiao. Pray for the services, the messages, the people's ability to comprehend and read.
The studies that are being taken to new villages such as Makaoa, Bacuri and Joari.
Our next village trip, scheduled for December 10-19th.
The ministry planned in January 2020. Two youth from southern Brazil will arrive here January 2-19th to go into the village and know our ministry. Pray for an overall good experience, that they would return to the Bible College down south with a good report for possible future trips and helpers.
January 23-25, First annual Pastor's Conference in Northern Brazil in Belem. I and possibly the whole family hope to attend and continue to form partnerships with other like minded people for the expansion of the jungle ministry among the Apurina people.
The Group from England to visit the Villages, March 2-9th. We are in the process of procuring a boat rental to bring the whole group to and from the villages right now.
During these next few months as our normal schedule of teachings and preaching in the villages will be interrupted with shorter trips and groups. Pray for the Apurina people and their spiritual growth and Christian expansion in the area.
For our family. Please pray for continued recovery from Malaria and now from weakness which are a result of the Medications for Malaria for Brad. Please pray for Melissa and homeschooling, the pressures she has to run a household, a school, and ministry. For our children, Andrea, Josiah, Veronica and Benjamin.
Do you wonder if your support is necessary? It is. You too, can be a financial partner with this amazing work of God. Please click on the link below or on the "Become a Financial Partner" button on this page and help us as we faithfully minister in the Amazon Jungle.
God bless you all in Christ,
Brad and Melissa Miller and family